Young Guns 2020 Class – Good Grass Gains Despite Dry Conditions
August 22, 2019
Hi DTBA Members,
While most everyone I talk to is having a pretty green summer, Heartland Bison Ranch has been dealing with moderate drought conditions again. After 3 summers of this I guess it seems to be a bit normal now. Anyways, I have been closely watching the 2020 Class of Young Guns Breeding Bulls over the last couple weeks as the pasture started to run short. This week we finally got some rain again but it's a little late. So, with that being said, I decided to make the call and bring in the bulls a little bit earlier than anticipated in order to keep them in good condition coming off grass and going into the feed test portion of the class. We were gunning for 105 days on grass and we ended up working the bulls today at 96 days. Basically, that will equate to a few extra days on the feed test but overall, the bulls are in great shape and healthy going into the next phase of the competition.
Attached is the scoring on the class as it stacks out after the grass gains have been calculated. We did have a few bulls with pink eye out on pasture, but we darted them right away and got it cleared out. We checked over all the animals while in the chute today. As of right now everything looks healthy and are in a new clean pen for the feed portion of the trial. The whole class averaged 1.09 lbs./day of gain with the top bull gaining right at 2 lbs./day on grass. The class average weight was 835 lbs. coming off grass.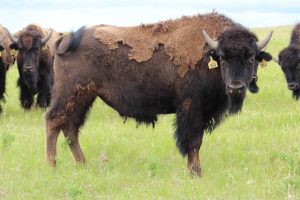 As always, thanks to everyone who participated in this class. This is going to be a lot of fun to watch these guys pump up over the next few months. Let me know anytime you might be in the area so you can stop by and check them out!
Kevin Leier
Heartland Bison Ranch
Host of the 2020 Class of Young Guns Yearling Breeding Bull Challenge