2023 Stack The Deck Show & Sale Catalog Now Available!
January 13, 2023
The 2023 Sale Catalog for Stack the Deck is Ready!
The Dakota Territory Buffalo Association is very excited to bring you the first view of DTBA's Stack the Deck Performance Class Show & Sale catalog! The 2023 Catalog is available for review in two ways:
There will be hard copies in the mail soon, and we will also have them available at the Winter Conference on Saturday, February 4th.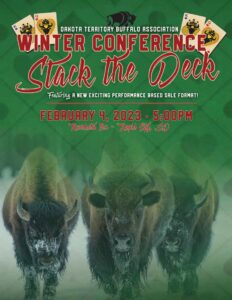 I would like to offer a special thanks to our consignors for the inaugural Stack the Deck competition. We appreciate their participation and their support:
Antelope Creek – Scott and Mike Assman
Buffalo Dance Bison – Casey Byrd
Cammack Buffalo – John Commack
Crazy Arrow Ranch – Glen and Becky Carr
Custer State Park – Chad Kremer
Heartland Bison – Kevin Leier
Heim Land and Bison – Alex and Cassie Heim
Tatanka Hills – Kevin, Joan, Jason and Sherri Stormo
Trails End River Bison – Dixie Byrd
Also remember that today is the last day to register for the 2023 DTBA Winter Conference on February 2nd – 4th at the Ramkota Inn in Rapid City. If you have not already, we encourage everyone to register for the conference online, and please remember that if you are registering and need to reset your password, you may need to check your junk or spam folder if you do not see a reset password response email.
Special thanks to all of our members for your support and for your input over the past several months. The Board of Directors and I hope to see you all soon in Rapid City!
Jim Degenstein
Executive Director – Dakota Territory Buffalo Association