New Interim Executive Director and New Board Member!
June 4, 2022
New Interim Executive Director
Members of the DTBA,
Good Morning! As I type this note to you all it this morning it is sunny, we have had a good amount of moisture, the grass is greening up, and we have calves on the ground. A few months back I was introduced to you as the newest member of the DTBA Board of Directors, of which I was very excited to be a part. Since that time, however, my passion for the Bison industry and the DTBA has led me to new calling, of sorts, as I have asked the Board to become the Interim Executive Director. I have requested to temporarily fill this position as the Board continues to search for a permanent replacement. They have accepted my proposal and I am honored to sit in as the interim ED.  I have resigned my board position and a new board member will be named soon. I look forward to visiting with you all soon, as the Board and I will be reaching out to all members, past and present, to ask for your insights and input for ways to improve the Dakota Territory Buffalo Association. There will be a few changes that will follow shortly:
The website is being given a facelift and will soon have additional information, tabs and links. Please bear with me as I work with the designer to complete the lift. The launch will happen very soon.
Facebook will be reopened, and this is where we ask our membership for your help. If you have pictures or postings you would like to share, please send them to the DTBA and we will work to get them posted.
Lastly, we may be giving some members a quick phone call, and for those for whom we have an email address we will be sending a short survey asking for your feedback. Please take the few minutes to complete the survey.
I look forward to working with, and speaking with, you all.
Jim Degenstein – (770) 500-9896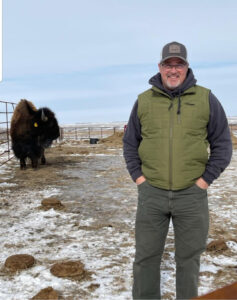 Meet Your New Board Member!
Meet Your new Board member, Sherri Stormo! Sherri will be serving a 3-year term, filling the open position left when Jim Degenstein moved to Interim Executive Director.
Sherri Stormo has over 15 years of business leadership experience in multiple environments, having worked in the corporate world for over 10 years and then starting and running her own business for the past 10 years. During her career, she built a reputation for innovative strategic thinking, operational excellence, and supply chain management.
Sherri has an Electrical Engineering degree and an MBA. She began her career in 2004 at Rockwell Collins, a Fortune 500 company in Iowa. She held multiple positions, including Engineer, Operations Manager and eventually Plant Manager, overseeing operations of several products and 100+ employees.
Moving back home to South Dakota in 2012, Sherri worked remotely for Rockwell Collins managing key suppliers in the Midwest. Sherri eventually followed her entrepreneurial passion and started her own photography business that has been in business for almost 10 years.
Along with her husband, Jason, and their 4 children, she resides in rural South Dakota, just outside of Watertown. She has begun to devote more and more time to the family farm (Tatanka Hills) and is enjoying being a part of the bison industry. They run a cow-calf operation and feedlot, while the other half of their operation is farming.
Sherri is also a board member on her local school board, is one of her church's children's ministry leaders and is a member of their worship team. She devotes time and resources to local nonprofits and is in the process of starting her own nonprofit to encourage kindness and love in today's world.
Sherri is looking forward to further serving the bison community on the Board of Directors for the Dakota Territory Buffalo Association.