National Bison Day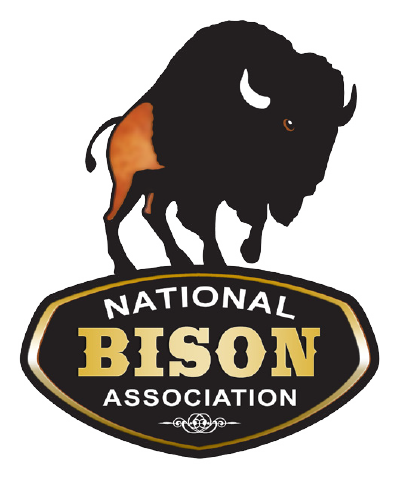 Spread the Word on National Bison Day!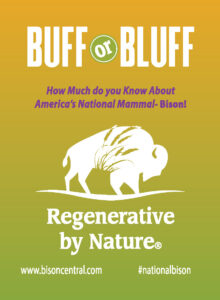 Goal: Spread the news about the 2022 National Bison Day, Saturday, November 5th, and Promote Your Bison Work!
Who? NBA members (growers, marketers, conservationists – all of you!)
What? Help spread the word about bison – the US National Mammal and naturally regenerative keystone species while promoting your own good bison work and contribution to restoration.
When? Get started right away! Officially, National Bison Day is Saturday, November 5th, 2022.
Where? Local is best. We'll do an Associated Press news release, but we need your help to spread the news at the local and regional levels. Use social media, local media, farmer's markets, festivals… be creative!
Why? Since 2012, the United States Senate annually has designated the first Saturday in November as National Bison Day. This yearly resolution is required because Senate rules do not allow for resolutions to establish any standing "National Day" on a perpetual basis. This resolution has the full support of the National Bison Association, the Wildlife Conservation Society and the InterTribal Buffalo Council. These three organizations championed the enactment of legislation in 2016 designating bison as the National Mammal of the United States.
The President signed the National Bison Legacy Act on May 9, 2016, making the North American bison the official National Mammal of the United States. This is a great milestone for an animal that once faced extinction. The bison has played a central role in America's history and culture and helped shape the Great Plains and the lifestyle of Native Americans. Today, bison live in all 50 states and serve as a symbol of unity, resilience, and healthy lifestyles and communities.
How? Glad you asked! We've included a template you can modify to create a press release. Fill it out, then email it to your local newspaper. I like to also call to verify they actually received it, and check if they need any other information or photographs.
In the members section of the NBA Website there is a collection of infographics that work great for answering some of the most asked questions on bison, or grab your own pack of Buff or Bluff cards!
We'll be sharing more helpful info through the Facebook Official National Bison Association Members Group. Not part of the group? Just message the National Bison Association and we'll get you added!
More questions? Email or call the National Bison Association: lydia@bisoncentral.com or 303-292-2833, ext. 702.